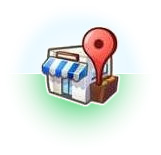 If you have read up on anything involving Local Search Engine Optimization or Maps SEO, you will have heard marketers talk about "Local Citations". So, just what are they, and why are they so important in helping you to rank higher in local searches related to your business?
Google's earliest method or algorithm for ranking of webpages was called "PageRank", developed in 1996, and it was based upon a system they built to automatically calculate numerical scores for webpages based upon the numbers of links each page had pointing to it, and the scores of those pages linking in. The concept was initially inspired by analysis of academic research papers — those papers that had a greater number of other research papers mentioning them in reference citations could be considered to be more important or more popular. Looking for a similar indicator in the worldwide web, the founders of Google decided that links might be quite similar for evaluating relative popularity of webpages.
Fast forward to the present, and Google's ranking algorithms are much more sophisticated, even though PageRank link analysis is still a part of it. Google now uses over 200 ranking factors, many of which may have 50+ dimensions, and they also use different types of ranking algorithms for the different specialized "vertical" search engines they operate — such as Image Search, Video Search, News Search, Local/Map Search, and more.
For performing Local Search for businesses, Google's engineers developed another type of citation that they could incorporate as a ranking signal — a "local citation" — and patented this as part of a local ranking method. Local search optimization experts such as David Mihm were inspired to declare citations to be the "new link" where local business rankings are concerned. (Some refer to these as "local references", too.)
Essentially, a local citation could be anytime someone mentions a business online. These mentions or citations could contain such things as:
Common Types of Local Citations:
Company Name. Possibly by itself. However, this is rare, if it is used at all, because the name on its own would have to be highly unique for it to be discretely identifiable by search engines for ranking purposes. Most likely the name would have to be used in combination with other highly-unique and identifiable information such as a couple of the other options mentioned below.
Phone Number. Google, Bing, and other Local Search Engines essentially use phone numbers as business I.D.'s because they are typically unique to particular companies. They also often have a uniquely regional/local element — the Area Code, which further helps establish the locality that is being mentioned.
Street Address. Usually, the address would need to include the City and/or ZIP code with it in order to be properly evaluated, especially since so many cities share common street names.
Link URL. Not to be confused with a link as per the original PageRank algorithm, but simply a mention of the URL address without hyperlinking it to the company webpage — this would be precise enough to be identifiable, and could be evaluated similar to other citation types.
Business Name + City Name. In many cases, there is sufficiently unique identifiability inherent in the mention of a business name combined with just the city name where it is located for it to be useful as a local ranking signal.
Business Name + ZIP Code. Just as with the City Name, a ZIP Code combined with a business name could be used by Google's Local Search algorithm.
In addition, there are a number of different types of places where Google could find a local citation to use for ranking purposes. Here is an example illustration, based on an attorney or legal firm: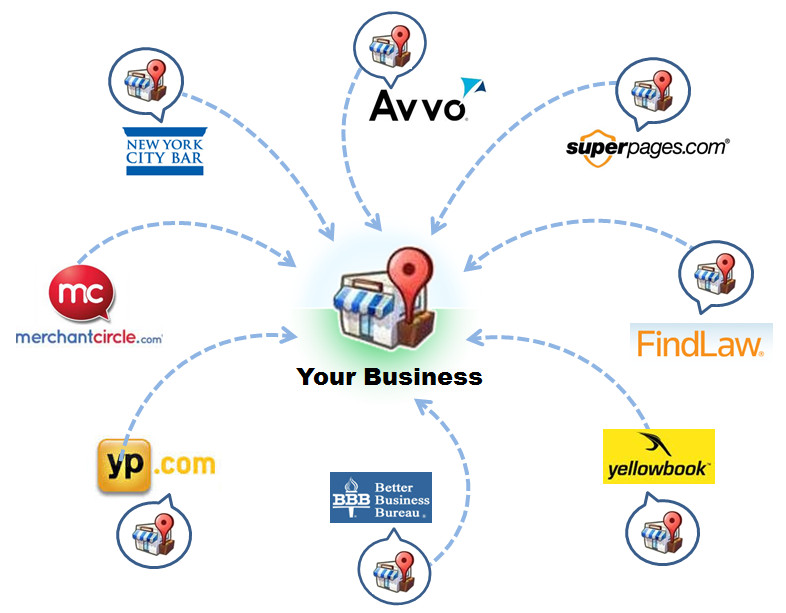 Common Sources of Local Citations:
Online Business Directories. Internet yellow pages are a primary type of business directory that have been used as in information source by Google, as well as other local search engines. (Back when I worked for Verizon's yellow pages, Superpages.com, we had a data provider agreement with Google, for instance, that involved Google incorporating business listings and business profile data from us to combine with their many other data sources.)
"Vertical" or Industry-Specific Directories. Think of the many guides of businesses that are specific to a particular business category, such as Hotels.com, Restaurants.com, FindLaw.com, Contractors.com and more.
Industry Associations.
Chambers of Commerce.
Reviews Sites. There are business reviews sites such as Yelp, the Better Business Bureau, and industry-specific reviews sties.
There are other, more complex types of local citations and other, less-common sources for local citations, but these are some of the more basic elements that you need to know about citations. Quite obviously, in order for your business to rank effectively in search results, you need to obtain local citations. Stay tuned for another upcoming Local SEO 101 post that will outline just how to do that!