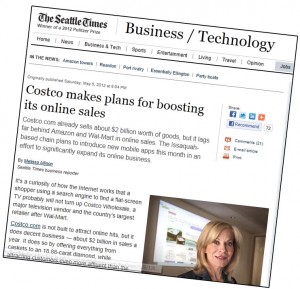 Chris Silver Smith, president of Argent Media, was recently interviewed by a Seattle Times reporter, and she'd asked him to conjecture on some of the things Costco might choose to do in order to improve their site for search. (See the article at "Costco makes plans for boosting its online sales")
He pointed out a number of very elemental search ranking elements which Costco.com had neglected — such as failure to include appropriate keyword phrases in page Titles, URLs and image ALT parameters. While he didn't perform a deep analysis, and there were some things which were likely performing adequately for search rankings for some of the site's pages, even at this quick, cursory audit it was apparent that a number of basic changes and improvements would likely improve Costco.com's performance significantly.
As yet another example of a basic SEO gaffe, if you go to the short URL for Costco's site:
it redirects to a much less optimal URL:
The main problem with this is that Costco.com's developers have set the redirect up using a 302 "Temporary" redirect — signalling to Googlebot and other machines that the Costco.com short URL has temporarily moved to www.costco.com/Home.aspx. For that reason, PageRank may not accrue at the destination URL — or at very least, a reduced amount of PageRank may accrue at the end URL. The rest of the ranking value will remain at the short URL which has no real content on it.
Further, if you go to http://www.costco.com/ , leaving off the "Home.aspx" resource name, this URL works also. So, there are at least three versions of their homepage URL which are live in the search results — meaning that all these URL variants may be effectively splitting the ranking value possible. So, this is an extremely basic — and common — "rookie" mistake.
Undoubtedly, Costco.com will have many deeper, subtler SEO issues which could require more advanced analysis to uncover.
But, Costco shouldn't really be singled out for this — many online retailers are not performing Search Engine Optimization, or are doing it at only a very suboptimal level. Some of the best known brand names are the worst offenders, because they "rest upon their laurels" by some degree, achieving some level of success with their online efforts due to traffic driven by their brand recognition and via shopping search product feeds. Chris has pointed out similar issues with companies such as Coca-Cola and Pepsi.
Argent Media personnel have worked with many of the top internet retailers, and we have seen many cases like these where companies are leaving surprising amounts of money on the table and in the hands of savvier competitors.
Contact us today to conduct a thorough website audit of your online shopping site: (972) 591-3466.