The 2012 edition of David Mihm's annual Local Search Ranking Factors survey has been released this week, and the general summary concludes that most of the influential ranking signals continue to be beneficial. From a glance at the report, relatively few signals shifted significantly from last year's report.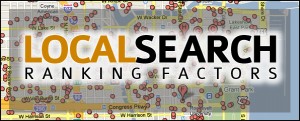 As the summary states, the main changes to Google's local search results seem to be in terms of the user-interface. The numbers of local listings occurring, the search phrases which invoke the local listings under Universal Search, and the presentation of those listings within the layout have been shifting.
Argent Media President, Chris Silver Smith, participated in the survey, along with numerous other established voices specialized in local search engine marketing.
Smith provides a few observations and comments upon this year's survey results:
As noted in the survey, participants responded to the request for ranking feedback just as Google released Google+ for local businesses the last week of May. So, there has not yet been sufficient time for the dust to settle and for us to see what impacts this may have had upon rankings.
The Google +Local released included a far more prominent integration of Google's recently-purchased reviews property, Zagats, and there are already some early indications that Zagat reviews and ratings numbers may be impacting local rankings in some significant way. (It's possible that the Zagat ranking numbers might not be directly affecting local business rankings, but they could indirectly affect the rankings due to their prominent placement — which could indirectly affect rankings by influencing users' conversion activities such as clickthroughs to websites, requests for driving directions, etc.)
The survey responses might be only marginally useful in conducting local search optimization activities for many SEO novices, because local optimization often has to undertake a scattergun approach, attempting to tweak a great many signals in order to achieve a cumulative beneficial effect in improving search rankings. So, the relative values of the ranking signals might be most useful for those with extremely limited budgets and time, so that they might hone in upon improving signals which provide the greatest ROI for them. Otherwise, it'd be best in many cases to attempt to improve upon as many signals as possible.
In our experience, the devil is often in the details where search engine optimization is concerned — so, the method for optimizing many of these signals is frequently of far more importance than merely doing "something" about them. So, while it's beneficial to know that a website's title element is highly influential for local rankings, for instance, that doesn't provide sufficient info on how to go about improving it. That's where experience really pays off…
The report further mentions the Panda and Penguin updates, and states that they did not have a lot of effect upon small, local business websites in general. While this is true, those algorithmic updates pointed at some important developments in Google's overall philosophy and evolution, and it's often the case that quality updates happen first within Google's primary keyword search results and then can later trickle out to affect results in their other vertical properties, such as in local search. The Panda and Penguin updates point at an increased emphasis in Google for the quality of sites/pages linking to you, and the quality of content upon your site. So, many of the cheaper, sloppy optimization firms doing work out there for small local businesses are now on notice, and likely will not realize it up until their innocent clients become penalized.
The Local Search Ranking Factors survey is a good one, and well worth revisiting! Check to see if you're missing out on factors which you could be using to help your business's rankings in Google's results, and if so, start working on them!  Also, pay close attention to the "Negative Ranking Factors", and be triple-certain you're not involved with any of those!