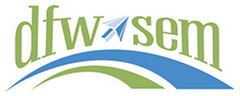 Chris Silver Smith is speaking on semantic markup for local search optimization tonight at the Dallas/Fort Worth Search Engine Marketing Association meeting in Richardson. He'll be speaking along with Greg Gifford, the Director of Search and Social for AutoRevo.
Chris recently wrote a few articles on semantic markup, such as 13 Semantic Markup Tips for 2013: A Local SEO Checklist, Local SEO 101: Local Breadcrumbs, and SEO: Breadcrumbs Are Bread-and-Butter touches upon the semantic markup for breadcrumbs as well.
Chris also long been a proponent of semantic markups, prior to their adoption as special signals by the major search engines. (See just a few examples: Tips for Local Search Engine Optimization for Your Site, the hCard Microformat & Local Search Optimization, and Optimize Local Events with hCalendar Microformat.) The current primary semantic markup standard accepted by Google and Bing is the Schema.org protocol, based on micro data.
Semantic markup is a valuable SEO tactic to use in a site's natural search strategy, because it enables search engines to more effectively interpret and understand a website's content, and it helps increase the chances that this content might be featured more prominently in search results by way of Rich Snippets. Rich Snippets are unique ways of formatting search engine results listings to provide a bit more information to searchers. For instance, the author tag can allow blog posts and articles to sport the author's name, picture icon and other information in the search listing. For example, one of Chris Silver Smith's articles from Search Engine Land appears when searching for the phrase "are yellow pages worth it", and his article on Internet Yellow Pages: Worth The Effort? is featured: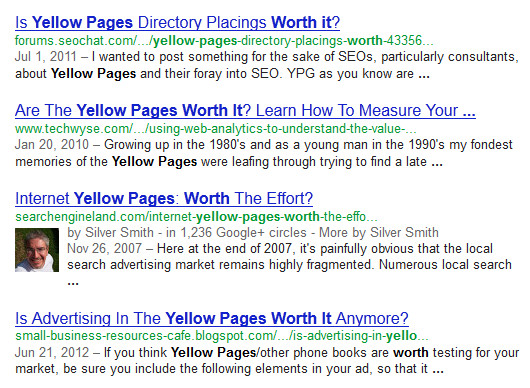 Statistics from search engines have indicated that this sort of treatment can increase clickthrough rates by 15% on average, or perhaps even higher for some keyword phrases!
In addition to the presentation on semantic markup, Greg Gifford will be presenting a reprise of his fantastic State of Search Conference presentation on Google+ Local — the smashup between the former Google Place Pages and Google Plus pages. His creative presentation design, paired with extremely helpful knowledge on navigating the challenging process of establishing and verifying Google+ pages for businesses will be timely and worthwhile.
In all, this session is not to be missed!
Be sure to register if you'll be attending: DFW Search Engine Marketing Association